Avimor Boise Community & Homes For Sale
Avimor in Boise is a planned community located on nearly 23,000 acres of beautiful foothills land. It's currently in the Phase 8 of the development. Once it's completed, Avimor will comprise of several Villages connected by pathways and trails to make transportation by foot or bike. Within minutes of every home, residents will find neighborhood shops and offices. Amenities include a Community Center, swimming pool, fitness center, 7 parks, easy access to approx. 100 miles of hiking and equestrian trails as well as biking. As a result of thoughtful planning, most of the Avimor community is preserved as open space. Avimor is just minutes away from Downtown Eagle or Boise and close to medical centers, retail, dining, and entertainment. At the same time, residents can enjoy wide open spaces, easy access to recreational activities, such as biking, hiking, tennis, gold, skiing, rafting and more...
Later this year, Spring Creek Brewery will open and start serving beer and pizza. Businesses such as a bike shop, coffee shop, daycare, spa, are planned to open in the near future.
There are also plans to open a winery and tasting room, a school, storage facility, rodeo nearby (across Hwy 55).
New 55+ homes will be built in the coming years.
Avimor has a home for every budget and taste. Call Krystyna Ryan at (208)918-5007 for more information. Check out our Relocation Magazine.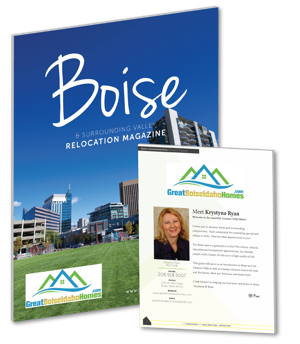 Avimor Photo Gallery